LogoMike® Mic Flags
Moulded from unbreakable
non - reflective plastic, with
rounded corners to meet
Health and Safety standards
and available in Cube or
Triangular shapes.

Fitted with non-perishable
acoustic foam Insert to
fit all Microphones with
shaft size up to 44mm

No minimum order - fast UK
dispatch PLUS FREE down-
load Design template

Plain LogoMike® Mic Flags
Only £7.50 each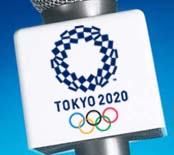 LOGOMIKE® CUBES
available in 10 colors:
LogoMikes® printed and
cured direct to surface for
permanent, scratch-proof
quality that lasts for years.
NOT peel off stickers!

No minimum order and can
dispatch within 24 hours
using FastTrack24 service.

Broadcasters send in your
artwork for Visual Proof
and quotation to order in
complete confidence.

See prices first before
requesting Visual Proof.

Go to the Price List.....